HIGHER SIGHTS
SGA's College Access & Success Mentoring Program
SGA Youth & Family Services provides a wide range of social services in some of Chicago's most challenged and consistently underserved communities, and creates long-term and community-wide change. SGA's Cycle of Opportunity follows children from birth through school, to college and beyond.
Are you a high school junior or senior with at least a 3.0 GPA and plan to attend college?
OR
Are you currently in college and would like emotional support and advice on how to solve problems when they come up, and make the most of college?
Higher Sights is a free program that helps high-achieving and highly motivated students, regardless of legal status, to reach their goal of getting a college degree. Higher Sights participants work with mentors to identify college and career goals, develop personalized action plans, get support to work through those plans, and stay on track. Your mentor acts as a personal sounding board for your ideas, helping you every step of the way.
You will work on building on skills such as self-awareness, communication, wellness/resilience, technology, and global awareness/research.
---
The late entrepreneur and philanthropist Joe Pedott helped create the Higher Sights program and established a fund for its operation.
Learn more about Joe's life and his history with SGA here. 
---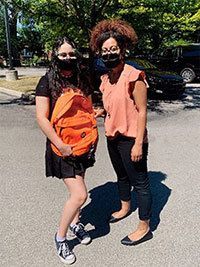 Our two partner high schools are Thomas Kelly College Prep, Wendall Phillips Academy High School, and Curie High School.
We've also partnered with several organizations and individuals. 
Interested in partnering with us? Contact Lolita via email.
High school students who wish to schedule a meeting with Rich Horowitz, may reach him via email.
---
ACCOMPLISHMENTS
Hashim's Story

Seventeen-year-old Hashim is a graduating senior at Wendell Phillips Academy High School, located in the Bronzeville neighborhood on the South Side of Chicago. He lives with his parents, an older brother and an older sister. Hashim was struggling with the college application process because he didn't know how to get started or what to even look for. He first heard about our college readiness program, Higher Sights, through his cousin during his junior year. She told Hashim about our program that helps students focus on getting into college and applying for scholarships. Hashim was paired with a mentor, Jacqueline, who would guide him along the college application process during weekly one-on-one meetings.

Starting out his senior year, Hashim knew he wanted to rack up as many scholarships as possible. His top priority was finding a good fit for him and graduating from college without student debt.

Jacqueline works on other activities with her mentees. She helps them write resumes and college application essays. She also supports them by performing mock interviews with her students and discussing appropriate interview attire. The past year has been overwhelming for many people due to the COVID-19 pandemic, so emotional support has been an especially key component of the mentor-mentee relationship. Jacqueline often plays an important role in her mentees' support systems, providing extra support to those who have fallen off course, encouraging them to get back on track and push to the high school finish line.

He continues, "talking to my friends and hearing what they go through, it's kind of hard to hear how they don't have the same support system, so I'm really appreciative of how many opportunities I have."

So far, Hashim has applied to 25 colleges and with the guidance of his Higher Sights mentor, he's applied to many scholarships. Of the 25 schools he applied to, there were only 2-3 schools that didn't accept him! Hashim is looking forward to majoring in Business Finance. He's narrowed down his top three schools to Ohio State University, University of Arizona, and University of Michigan.

Jacqueline is most proud of Hashim for being awarded The Gates Scholarship. This is a huge accomplishment, as thousands of students apply nationwide. Scholars will receive funding for the full cost of attendance that is not already covered by other financial aid and the expected family contribution. He has already received three scholarships in addition to The Gates Scholarship.

When asked about what he would like people to know about the Higher Sights program, Hashim says, "If you are looking for a support system, or just looking forward to someone having your back, just apply. Take advantage of this opportunity. They really push you ahead in life."

Kathelyn's Story

Twenty-year-old Kathelyn lives with her parents and older sister. Before joining SGA's Higher Sights program, she lacked consistent or empowering support from the adults in her life. Kathelyn knew that finances would be an obstacle for her in college so she chose to begin at a community college. In community college, the program she was in only prepared her to transfer to their preferred 4-year institution. Because of that, she didn't feel that they were looking out for her best interests. As Kathelyn ended her time at the community college, she was nervous about not being able to afford transferring a to a 4-year university.

Once Kathelyn joined Higher Sights and the staff began working with her, she felt validated and encouraged about her college choice. She was empowered to take charge knowing that she would have consistent guidance and emotional support along the way. The staff assisted Kathelyn with brainstorming and revising scholarship essays. This resulted in Kathelyn receiving enough scholarships that she no longer has any out-of-pocket expenses! The collaboration between mentor and mentee made that happen. Kathelyn is looking forward to starting the academic year at UIC and majoring in accounting.

When asked about her thoughts on Higher Sights, Kathelyn said. "Even though we haven't been working together too long, I feel like you know me so well and have helped me so much."
---
For questions or more information, please contact hsights@sga-youth.org