Our mission is simple—join us for impact.
SGA Youth & Family Services leads positive change for children and families in Chicagoland's most challenged and underserved neighborhoods. The human service agency has provided free, comprehensive services since its founding in 1911. SGA believes that sustainable community change results from a focus on early childhood, education support services, parenting, and workforce development. Collaborative partnerships, innovative programs, and measurable outcomes fuel SGA's efforts to replace the cycle of poverty with our Cycle of Opportunity®. 
Whether you're looking for services, interested in volunteering or career opportunities, or would like to make a donation, we invite you to browse our website to learn about our long history, upcoming events, our dynamic leadership team, financial stewardship, and more.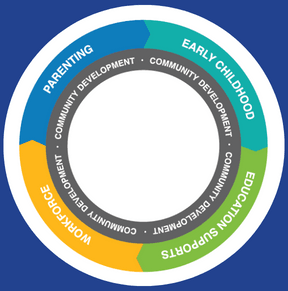 You can help us achieve our mission by getting involved.
"When I came to the US, I didn't have any friends. SGA has truly helped me by having a network of people I can feel comfortable with. My parent educator feels like a special friend. This is the best thing my family could have in this country. SGA staff is constantly checking in on me and caring for us. They also help by providing community resources. I feel like you're a part of my family." - Lucia, Participant in one of our Early Childhood programs